A
single solution

for urgent care.
Patients increasingly demand quick and convenient care options. Capture their attention — and their business — with personalized patient engagement. Grow your visit volume, maximize cash flow, and differentiate your brand against competitors with Upfront.
Learn why urgent care leaders choose Upfront
At Upfront, we understand the challenges our urgent care partners face each and every day: from staffing shortages and reimbursement requirements to building a continuous flow of patients to remain sustainable — and profitable. Upfront's single, unified platform helps your urgent care brand differentiate in three key areas:
Streamline operations & improve workflows
Your staff is juggling multiple point solutions and so are your patients. This creates friction and inefficiencies that can hurt your bottom line. Cut costs and streamline everyone's experience with Upfront, a single platform designed with a deep understanding of urgent care workflow. Eliminate inbound and outbound phone calls, give your staff more time, and delight your patients.
Condition-specific messaging
Differentiate yourself from the competition and reinforce brand recognition by showing you care about patients, even post-visit.
How? Patients receive automated, ICD-10 specific health checks after the visit. If they aren't feeling better, our system prompts them to book a repeat visit, driving additional visit volume.
Save your team time and show patients you prioritize getting them the information they need, fast.
How? Deliver information patients want before they call you to ask where it is, or your team has to work an outbound call list. No portal or password required with our HIPAA compliant framework.
Show patients you know them, welcome them back and win long term loyalty through an integrated digital + staff experience.
How? Bring together all outreach sent to a patient in a single pane. Arm your staff with a full history of visits and messages to ensure continuity when patients call or come back again.
Learn how Upfront activated 27% of eligible patients to schedule follow-up appointments for a large urgent care network
Boost profitability, cash flow & ROI
Upfront's platform is proven to increase visits and collections for urgent care, while reducing your statement costs. Keep your billing company, merchant gateway or in-house processes. We augment what you do today with data-driven, digital outreach that integrates with your existing systems and processes.
Quickly increase the number of payments collected (4X in first 10 days), accelerate the RCM process (49.5% increase in electronic payment) and reduce statement costs 72% on average.
How? Digitally engage patients to pay balances – using Upfront's best practices for content and outreach timing.
Condition-specific messaging
Brings patients back for necessary visits.
How? Patients receive automated, symptom-driven health checks then led through a wizard to digitally schedule a repeat visit when symptoms are not resolved.
Discover how Total Access Urgent Care (TAUC) drove a 4x increase in patient payments with Upfront
Create effective marketing & demand capture
Upfront's personalized patient engagement solutions blend behavioral science and psychographics to influence consumer behaviors. Our platform is designed to maximize marketing conversions through hyper-relevant messaging and event-driven automation. Seamlessly deliver post-visit satisfaction surveys; symptom-specific recall and acquisition via self-service campaigns; and promote new service lines or locations to win patient loyalty and return visits.
Satisfaction surveys & social media
Upfront is the leader in reputation management for urgent care. Unify your processes, automate outreach and alert staff to reviews that require immediate attention. Do it all from one pane of glass, consolidating multiple vendors and eliminating confusing patient experiences.
How? Patients receive an automated post-visit satisfaction survey based on your preferred model (NPS, NPS with Drivers, 5-Star). Positive surveys can prompt additional reviews or push social media, and negative surveys trigger a task – such as patient response or internal communication for training.
Build, execute and report on marketing outreach.
How? Upload target lists or filter against existing patients, then design ad execute campaigns leveraging extensive research data on urgent care patient attitudes, preferences and behaviors, tailored to your markets. AI-driven content and image assistance tools drive scale, while embedding psychographics into your content – speaking to each potential patient's motivations, ultimately improving conversion.
Explore Upfront's full solution set for urgent care marketers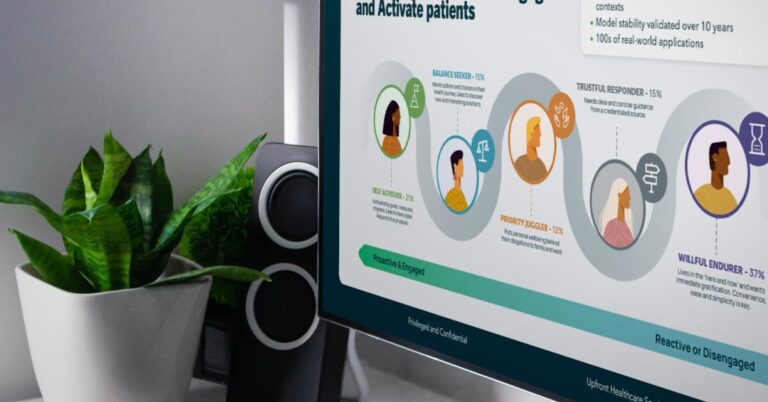 Webinar: UCA & Upfront breakdown how to
capture demand
Omnichannel Communication Capabilities
Engage patients with Upfront's omnichannel capabilities
Ready to get more visits? Grow your business with Upfront's personalized patient engagement solutions. Jumpstart your urgent care business with a tailored impact assessment with our urgent care team.